We are excited to introduce the 01Node Faucet, a powerful tool designed to simplify the acquisition of Goerli Ethereum (ETH) for testing and development purposes. At 01Node, we understand the importance of seamless access to testnet tokens, which is why we created this service specifically for the Goerli network. Developers, enthusiasts, and users can now easily obtain Goerli ETH to explore and experiment with various decentralized applications, including our upcoming Staking Pool v2 App ( Link ).
How It Works: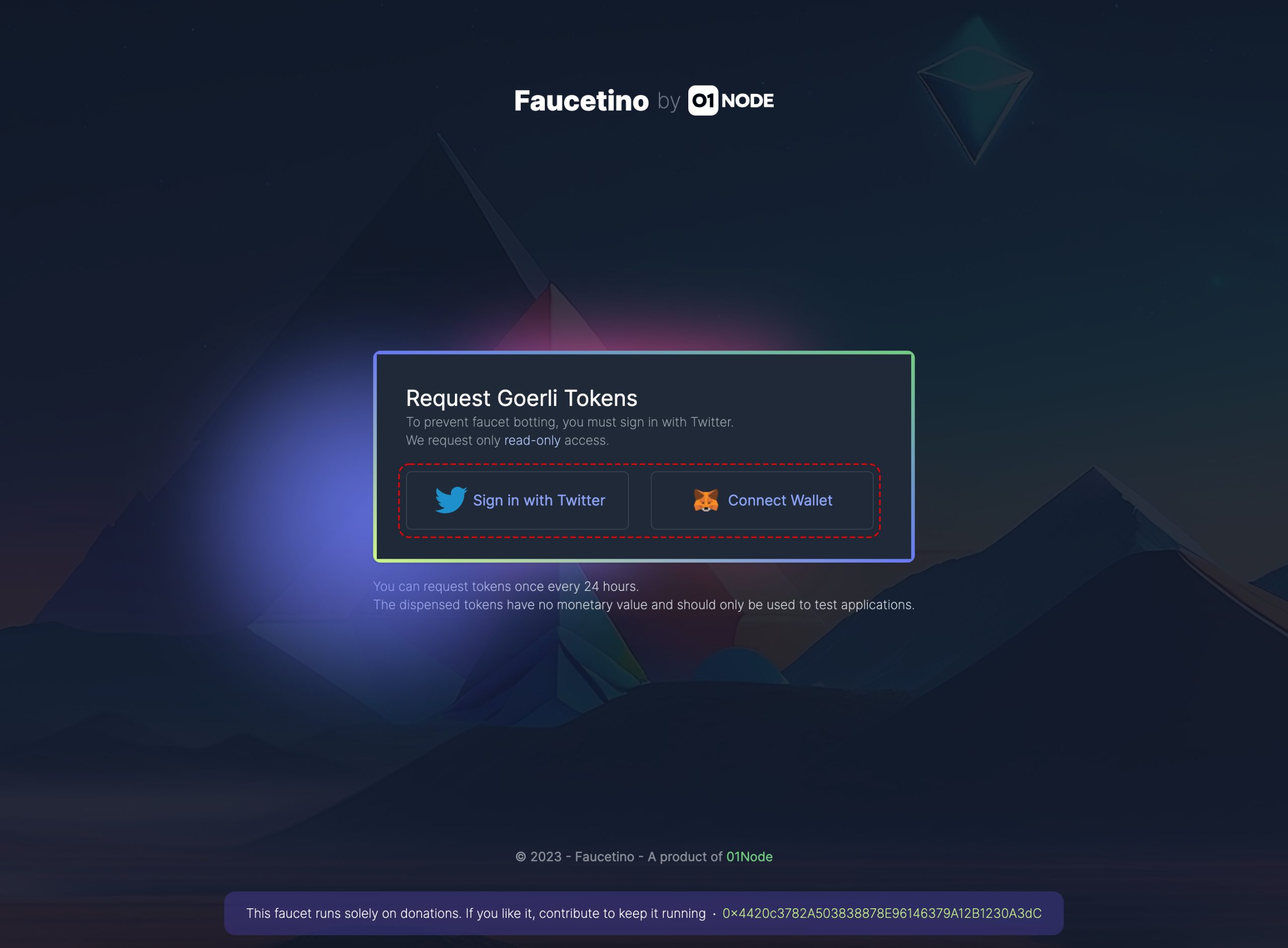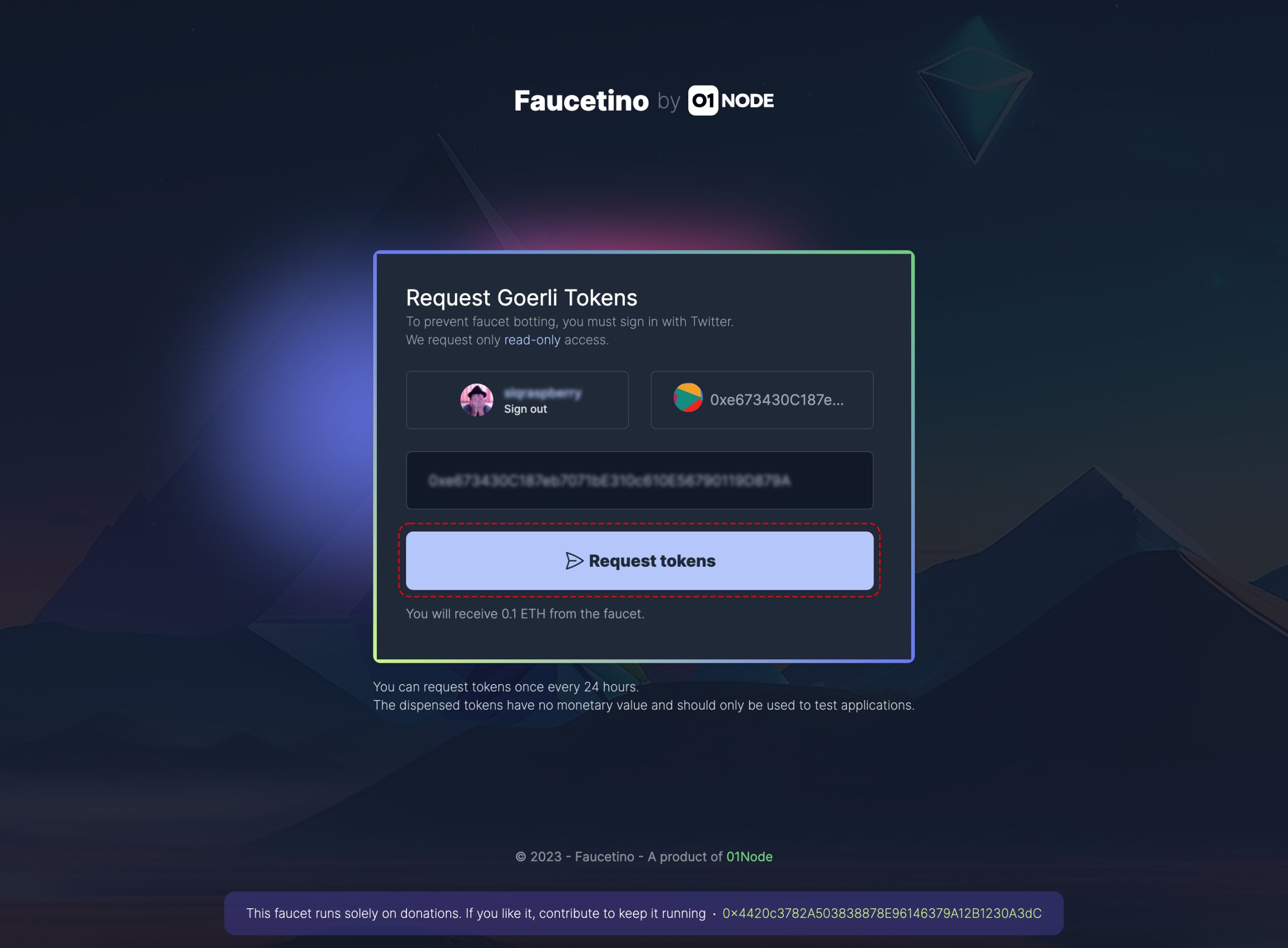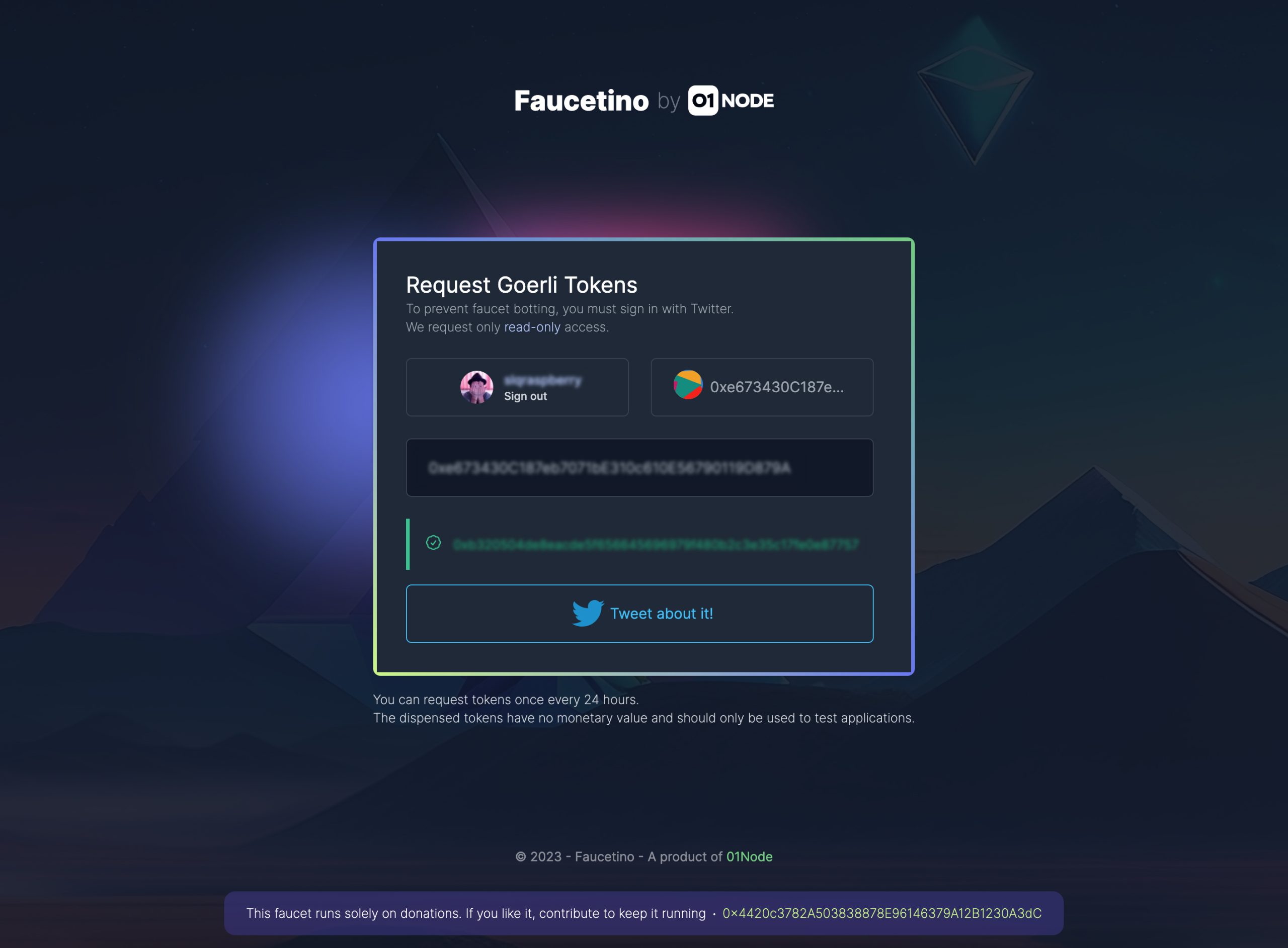 Our user-friendly Faucet service, accessible at https://faucetino.01node.com/, provides a hassle-free way to request Goerli ETH. Follow these steps to get started:
**Connect Your Metamask Wallet:** To securely receive Goerli ETH, connect your Metamask wallet to our Faucet. Metamask is a popular Ethereum wallet extension available for various web browsers. If you haven't installed it yet, you can easily find and install it from the official Metamask website.

**Twitter Login:** Once your Metamask wallet is connected, log in to the 01Node Faucet using your Twitter account. This login method ensures the security and integrity of the service by preventing abuse and ensuring fair distribution of tokens within our community.

**Token Drip:** After logging in, you can request Goerli ETH in increments of 0.1 ETH. The Faucet will automatically transfer the requested amount directly to your connected Metamask wallet. Each user is eligible to request tokens every 24 hours, ensuring a steady supply for testing and development activities.
Why Goerli ETH?
Goerli ETH serves as a crucial resource for developers and users engaged in testing and development activities within the Ethereum ecosystem. It allows you to experiment with smart contracts, interact with decentralized applications, and test various functionalities without spending real Ether on the mainnet. Goerli ETH provides a safe and cost-effective environment for refining your projects and ensuring they function optimally before deployment.
Staking Pool v2 dApp and SSV Network
We are proud to provide the 01Node Faucet as a convenient tool to facilitate the use and testing of our upcoming Staking Pool v2 dApp. Our Ethereum staking pool is an innovative platform that is built, using SSV network and Distributed Validator Technology to run our validators which aims to make staking accessible, user-friendly, and rewarding for everyone. The UI is simple and intuitive, yet users can do everyting they need to do to manage their stake and also see statistics about pool validators. The pool is managed by automated Oracles that track stacked balances, rewards, and validators, and through the pool Smart Contract which allows individuals to stake any amount EVEN AS LOW AS 0.1 ETH. The pool validators are also automatically managed by the Oracles that track their beacon chain balances and also the execution layer balances.
Feedback and Feature Requests:
We value your feedback and encourage you to share your thoughts and feature requests for the 01Node Faucet. Your input plays a crucial role in shaping our future enhancements and ensuring the Faucet meets your testing and development needs.
Join the Community
By utilizing the 01Node Faucet service, you become part of a vibrant community of developers and enthusiasts who share a passion for building and exploring the potential of decentralized technologies. Join us to share your experiences, ask questions, and connect with fellow developers in our supportive community.
The 01Node Faucet is a valuable resource for the Ethereum development community, providing a simplified process for acquiring Goerli ETH. As you embark on your testing and development journey, remember that our Faucet is here to support you. We are committed to fostering innovation, encouraging collaboration, and empowering developers to build robust and reliable decentralized applications.
Visit https://faucetino.01node.com/ today, connect your Metamask wallet, and start acquiring Goerli ETH for your testing and development needs. Together, let's shape the future of decentralized technologies with the upcoming launch of our Staking Pool v2 and the revolutionary SSV Network.