SCRT is the native token of the Secret Network. Secret Network is the first blockchain with data privacy by default! Allowing you to build and use applications that are both permissionless and privacy-preserving. This unique functionality protects users data, secures applications, and unlocks hundreds of new use cases for Web 3.
In November 2021 Secret Network launched their mainnet upgrade, Supernova, bringing programmable privacy to the entire Cosmos ecosystem. This upgrade allows $SCRT to work with all IBC chains and makes it possible to buy $SCRT on Osmosis Zone (the largest DeFi DEX in the Cosmos ecosystem).
Let's get started
👉 Purchase ATOM from a CEX or DEX
Trade $ATOM for $SCRT on Osmosis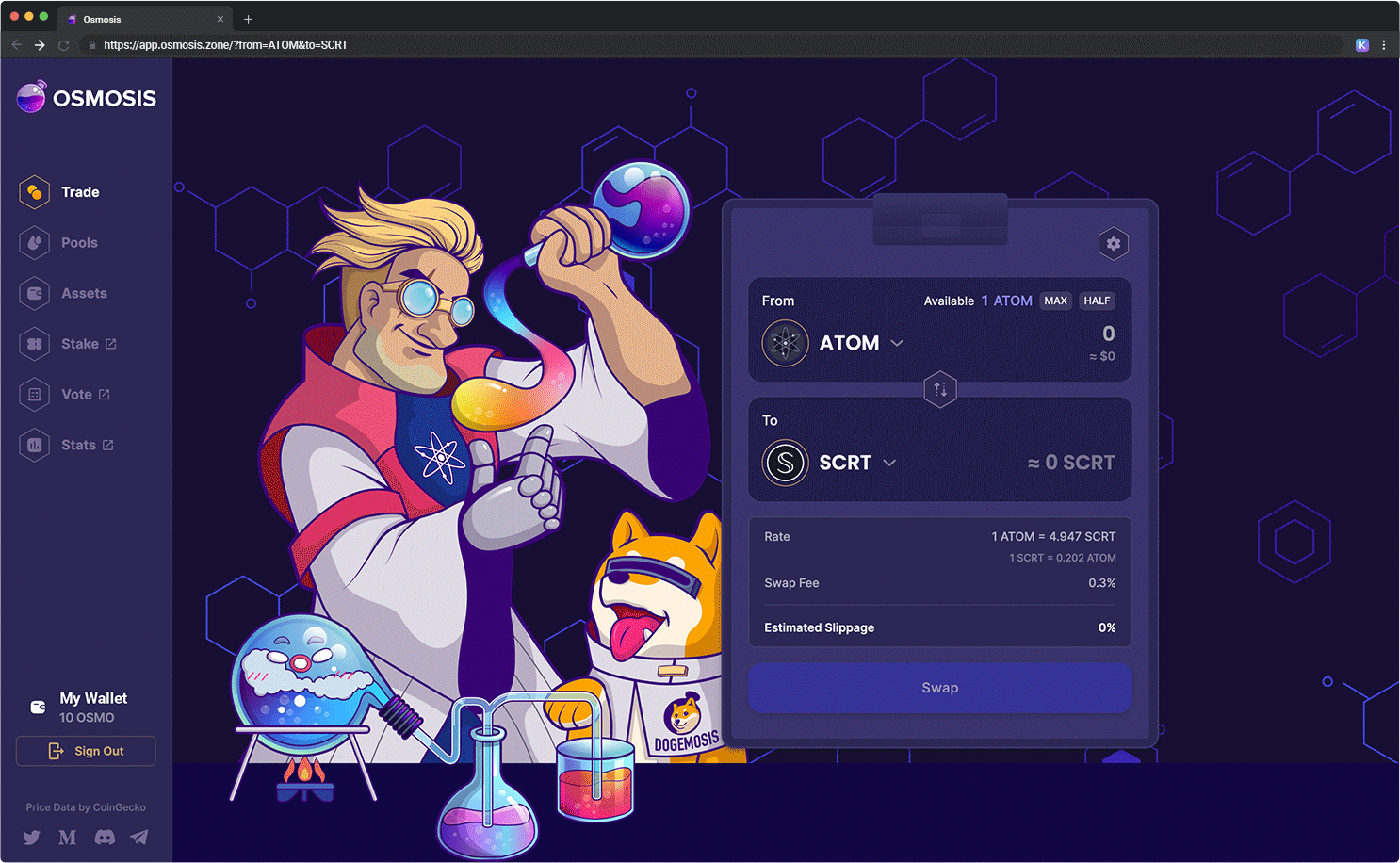 1️⃣  Navigate to the Osmosis Assets website.
2️⃣  Connect wallet to Osmosis Network
3️⃣  In the bottom left corner there is a Connect wallet button. Select it and a popup will emerge from Keplr — hit Approve.
4️⃣  You should now be in the Assets page. Find Cosmos Hub — ATOM and select where it says Deposit. This will send your $ATOM from your Keplr wallet to your Osmosis Network wallet. Don't worry, you'll still have full control over your funds and will be able to see them in your Keplr extension by selecting Cosmos -> Osmosis.
5️⃣  Deposit $ATOM to Osmosis Network
6️⃣  In the Deposit IBC Asset popup, enter the amount of $ATOM you wish to deposit and select Deposit. This will cause another Keplr wallet popup to occur. Select Approve.
Send $SCRT from Osmosis Network to Secret Network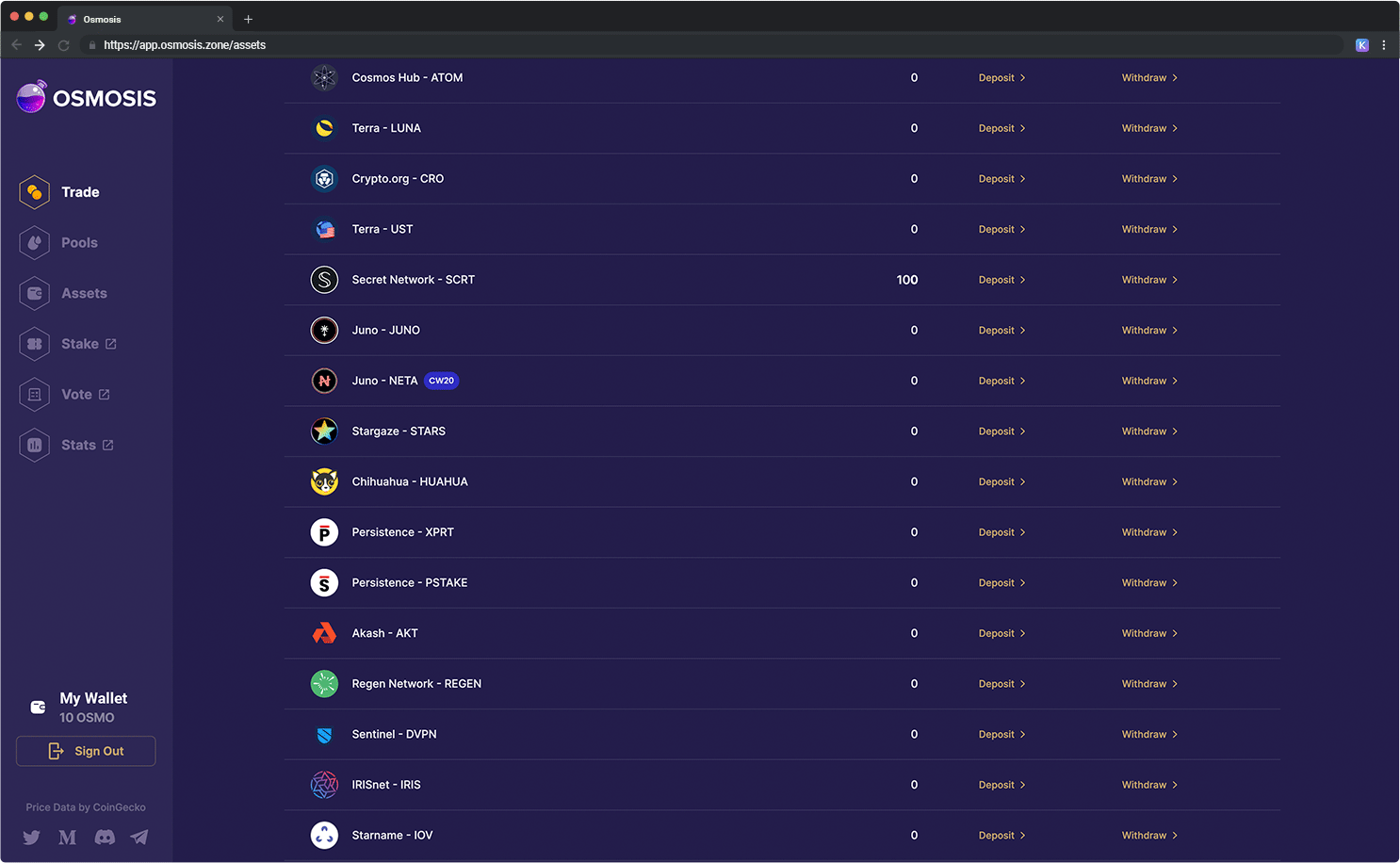 Osmosis is great, but what if you want the privacy features enabled by the Secret Network, or to stake your $SCRT? You'll need to transfer them over just like you did with $ATOM.
1️⃣  Return to the Assets page of Osmosis.
2️⃣  Find Secret Network — SCRT and select Withdraw.
3️⃣  Withdraw $SCRT from Osmosis Zone
4️⃣  In the Withdraw IBC Asset popup, enter in the amount of $SCRT you wish to withdraw and select Withdraw.
5️⃣  The Keplr extension will pop up. Select Approve.
6️⃣  Congratulations! You now have your $SCRT on the Secret Network! You can see your $SCRT by going into your Keplr Wallet extension, select Cosmos -> Secret Network.
💡  Pro tip: go to mintscan.io & secretnodes.comto see the status of your transfer. You can also contact the Osmosis or Secret Networksupport team using one of their channels.
Get ready to stake and earn 🤑
From here, you can stake your SCRT for 23%+ APR vote on governance proposals or make privacy-preserving trades using Keplr wallet .