01node- high quality validation service provider has yet again announced the launch of a node to join Celer State Guardian Network (SGN) and help secure Celer's layer-2 State Channel Network. Celer Network is an inter-blockchain and cross-layer communication platform that facilitates fast, secure, and low-cost cross-chain composability and bridging.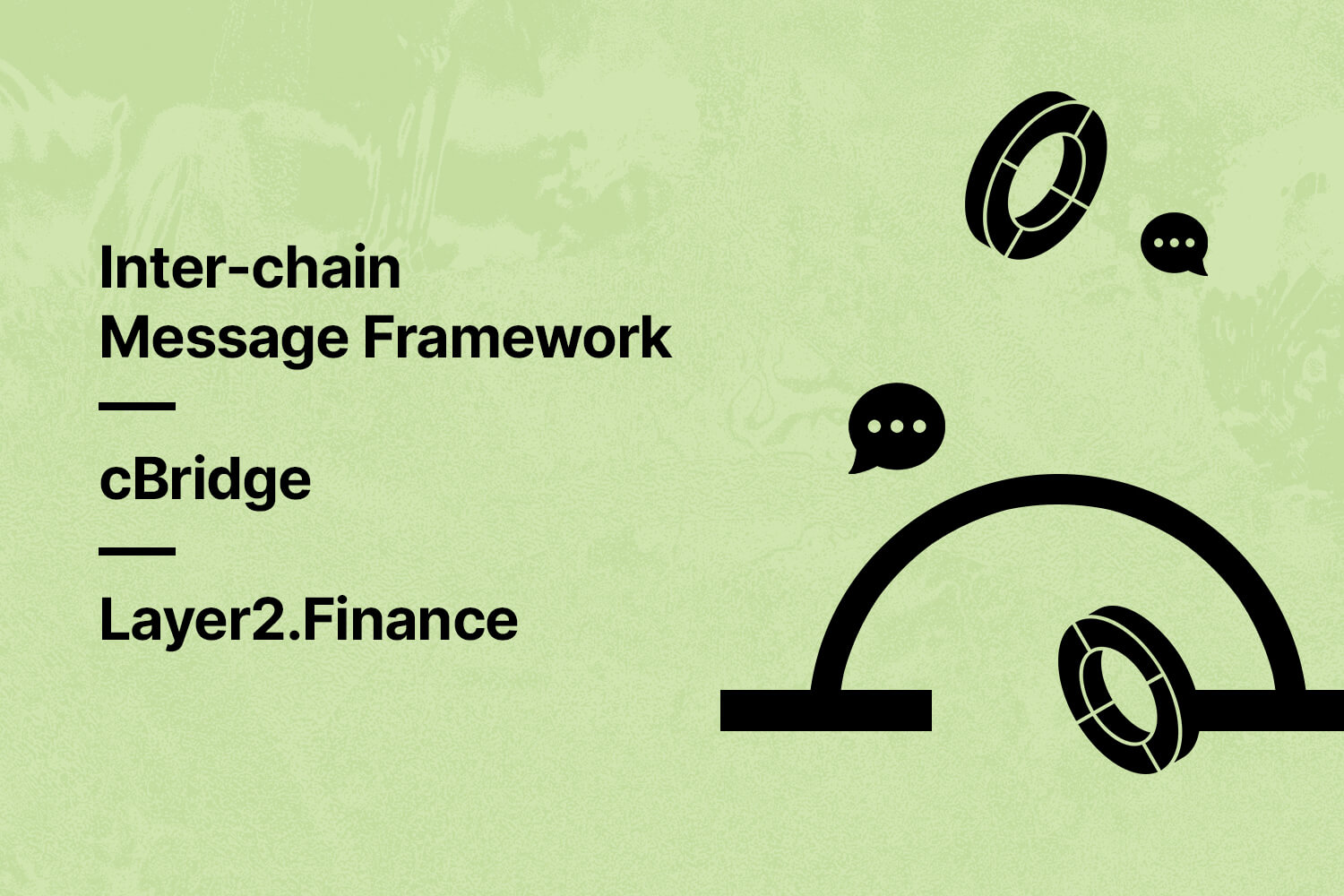 Products on Celer Network
Build on Celer network
Tokenomics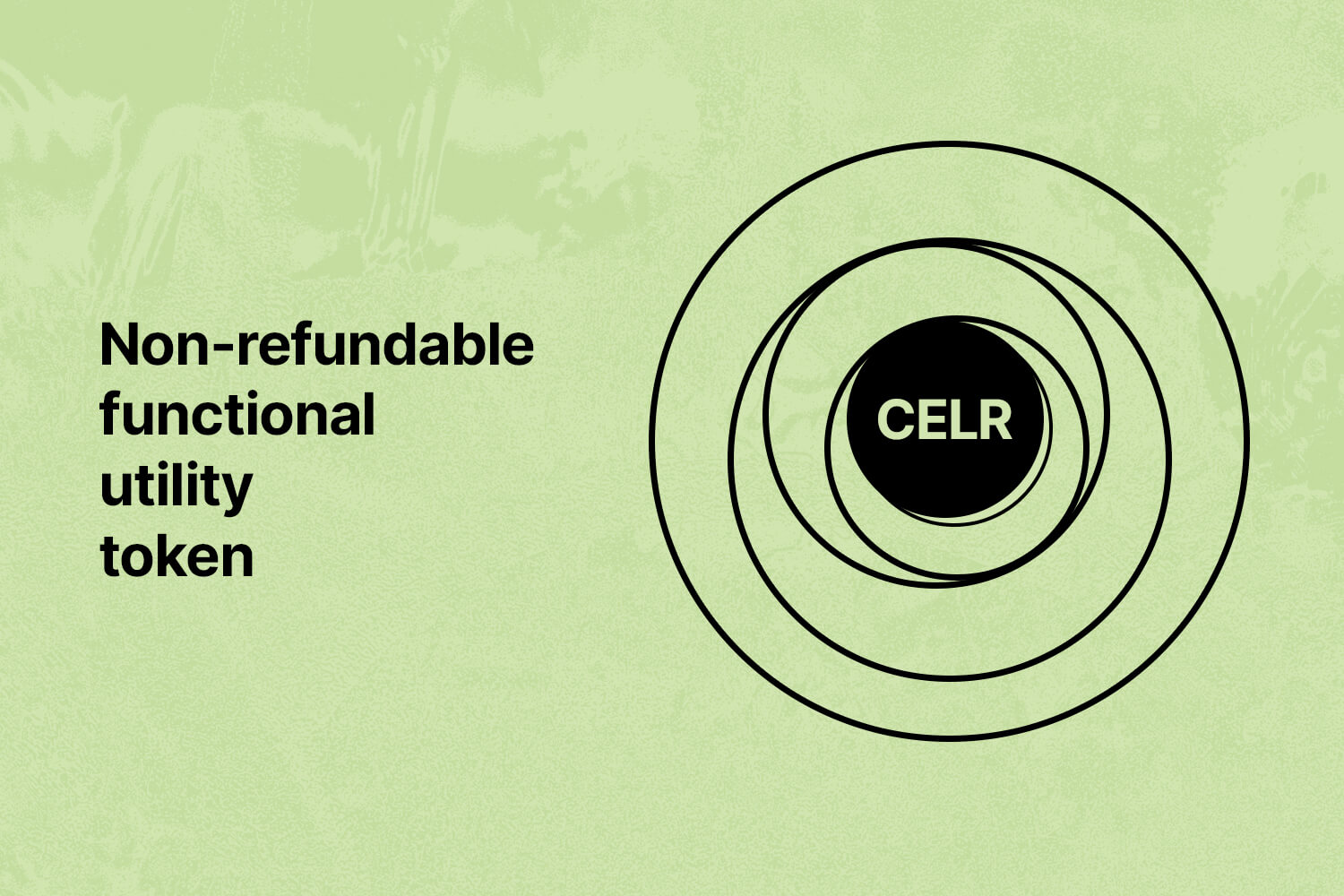 CELR is a non-refundable functional utility token. It's used to pay transaction and protection fees to service providers. Celer Network has a limited total supply of 10 billion CELR. The finite supply means that there shouldn't be any more coins minted once all the coins from the total supply are in circulation. This acts as an anti-inflation mechanism and potentially makes CELR a good store of value in the long term.
cEconomy is a staking-based system that provides security, stable and abundant liquidity, and state connectivity for Celer Network. To give a high-level summary:
CELR token can be used to pay the service fee and transaction fee to off-chain service providers and additional service provided.
One can stake CELR in State Guardian Network and become a State Guardian. State Guardians perform services like state monitoring, dispute response and connectivity to protect the security and improve the efficiency of Celer Network. During the service process, State Guardians receive service fee and side-chain block rewards.
CELR also serves as an incentive for maintaining a stable and abundant liquidity pool in Proof of Liquidity Commitment process.
CELR can also be used in Liquidity Backing Auction to increase the priority of liquidity backing bids and therefore statistically increase the liquidity interests payout.
The token supply distribution is as follows:
◆ Seed sale tokens comprise 11.5% of the total supply. It was completed in April 2018 for ETH at a rate of 76,000 CELR = 1 ETH and raised a total of 15130 ETH (-$7,475,000) at -$0.0065 per token, selling 11.5% of the total token supply.
◆ Private sale tokens comprise 15.5% of the total supply. It was completed in August 2018 for ETH at a rate of 31400 CELR = 1 ETH and raised a total of 49363 ETH (~$23,250,000) at -$0.0150 per token, selling 15.5% of the total token supply.
◆ Launchpad sale tokens comprise 6.0% of the total supply. It was successfully conducted on March 19th 2019, CELR for a total raise of -$4,000,000 USD worth of BNB at -$0.0067 per token for 6.0% of total token supply. The BNB to CELR rate will be determined on the day of the sale.
◆ Team tokens comprise 18.3% of the total supply.
Advisors tokens comprise 1.7% of the total supply.
Foundation tokens comprise 17% of the total supply.
◆ Marketing & Ecosystem tokens comprise 5.0% of the total supply.
◆ Mining Rewards tokens comprise 25% of the total supply.
How to Choose a Celer Network Wallet
As an ERC-20 token, CELR can be stored in any wallet that supports Ethereum and the type you choose will likely depend on what you want to use it for and how much you need to store.
Hardware wallets or cold wallets like Ledger or Trezor provide the most secure option for storing cryptocurrencies with offline storage and backup.
Staking on Celer Network
Get started (15% APY) : Here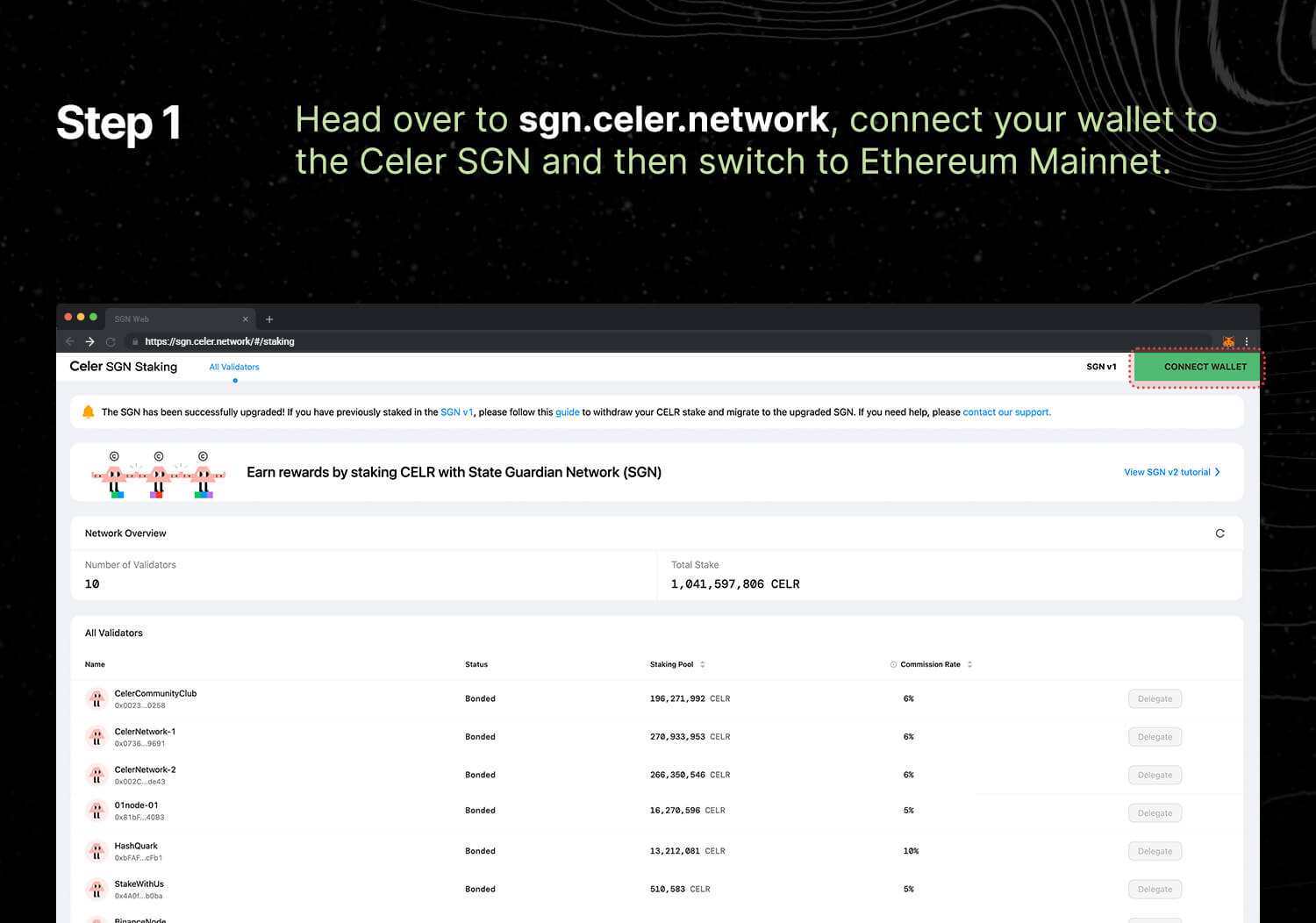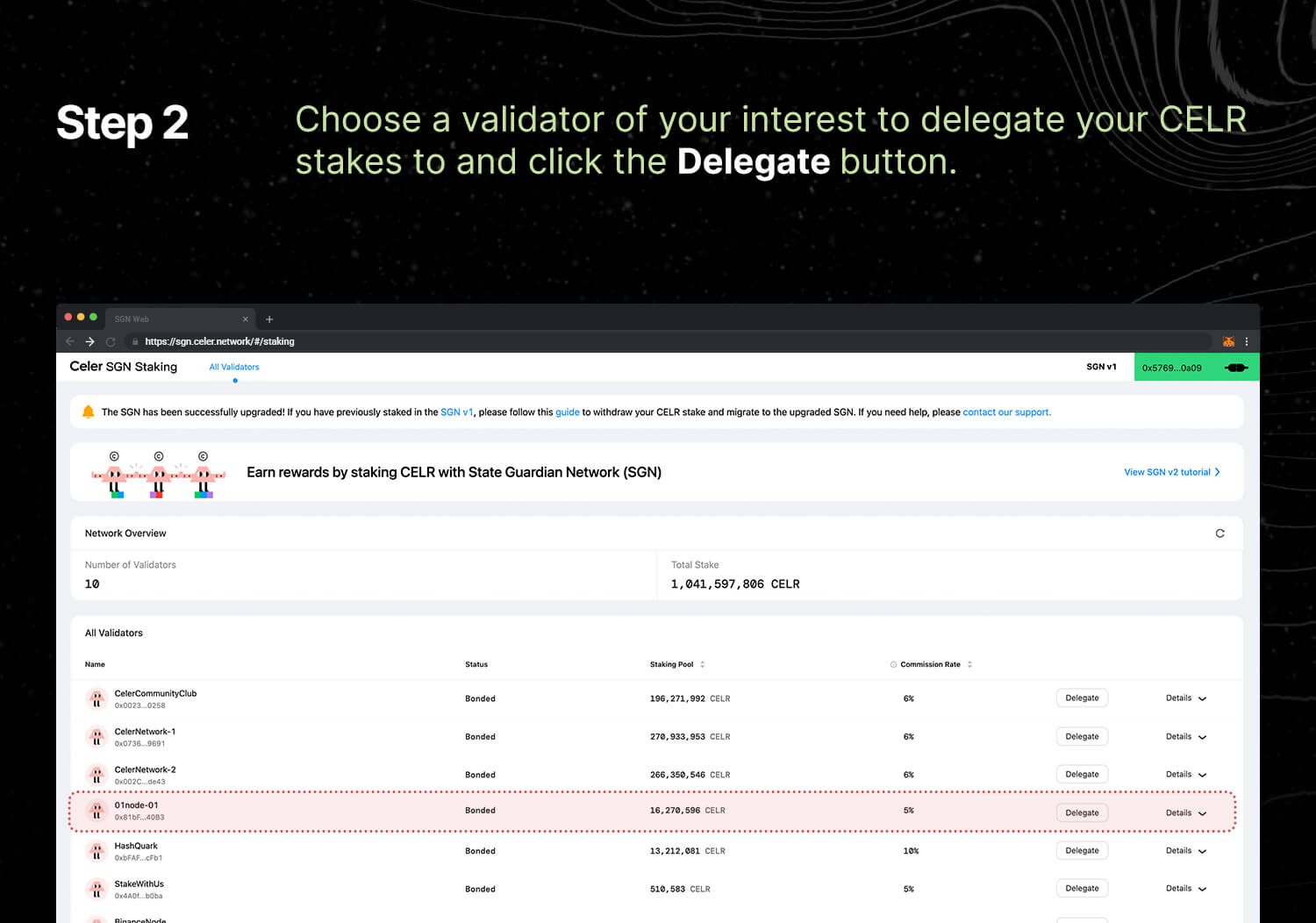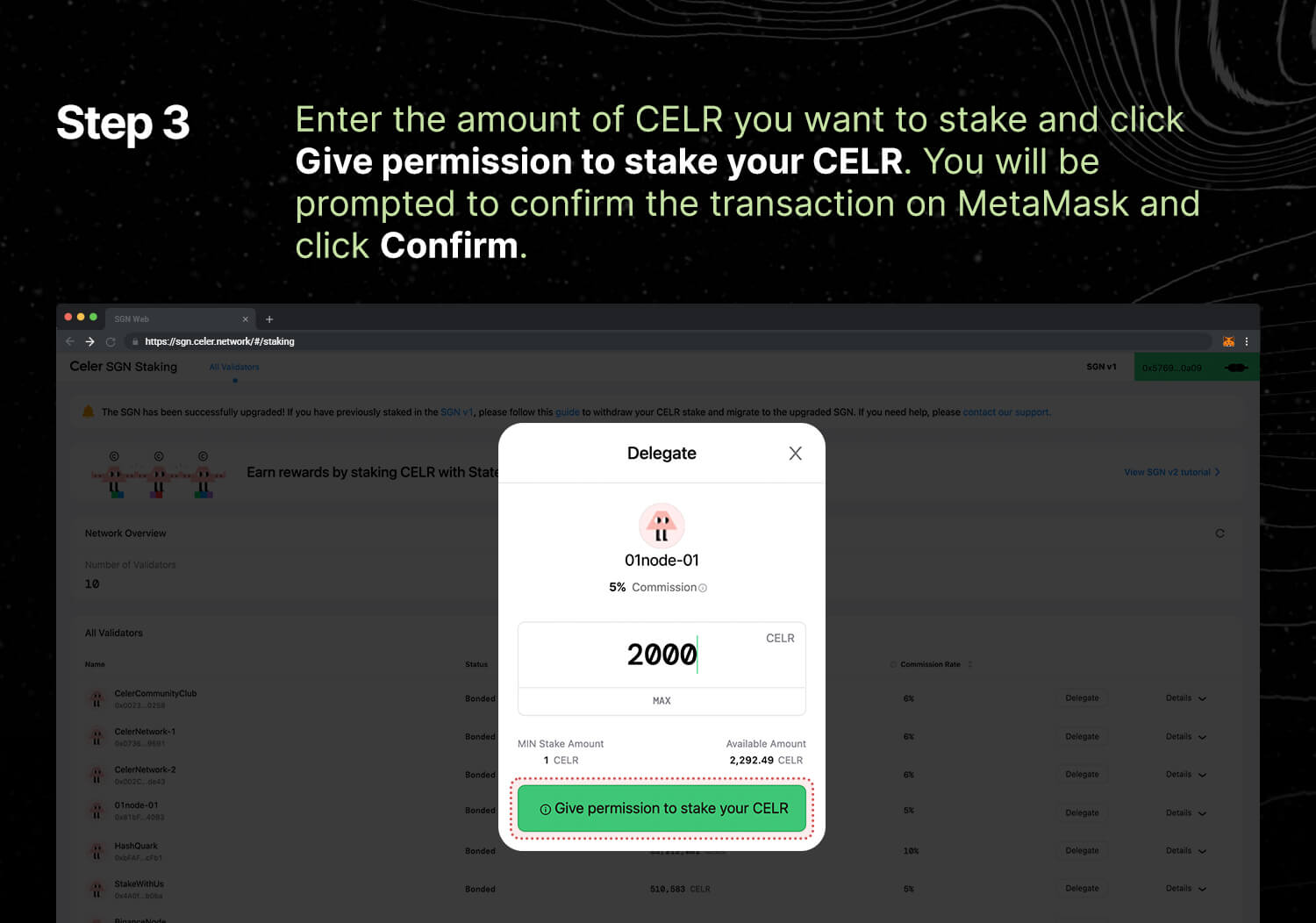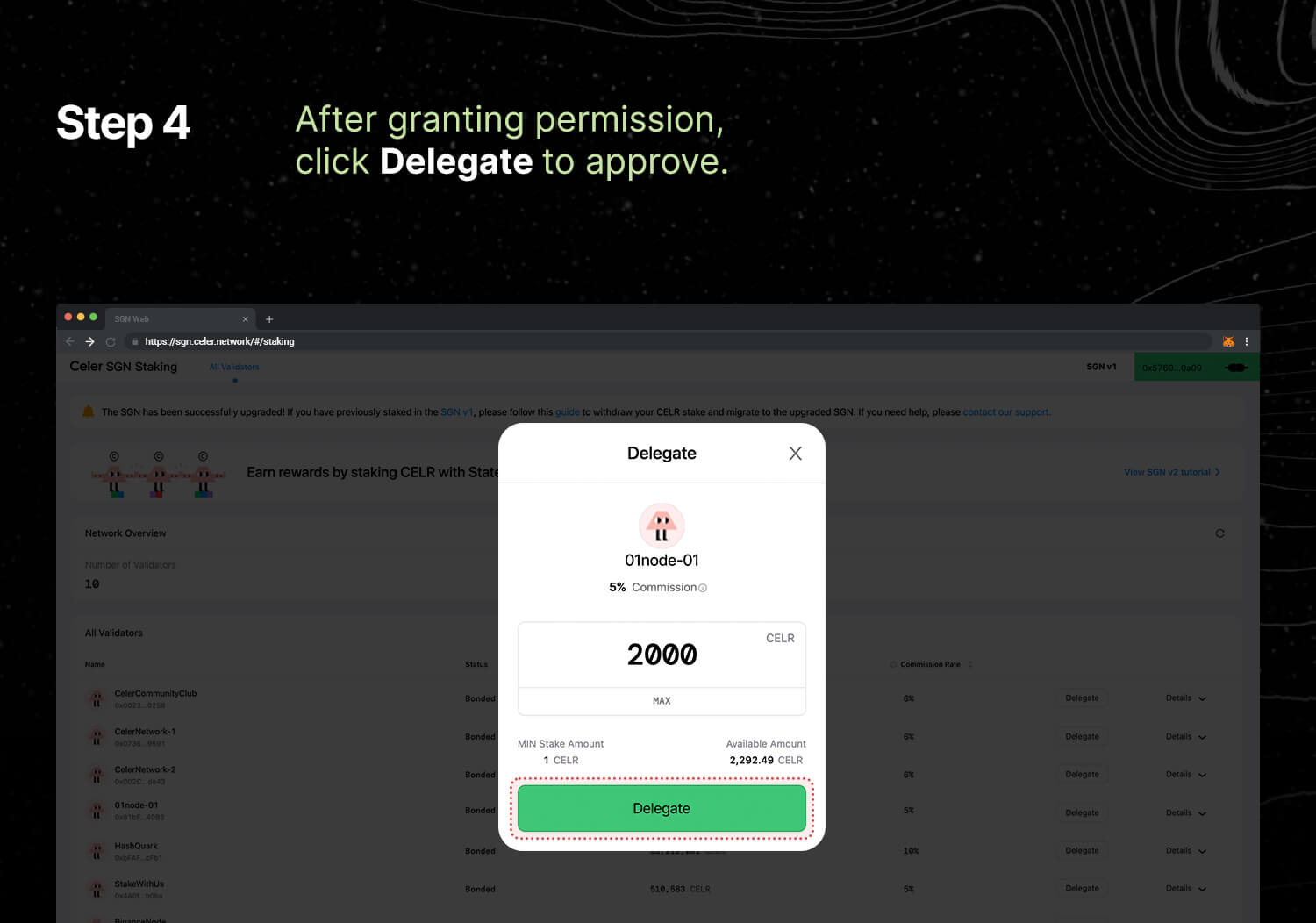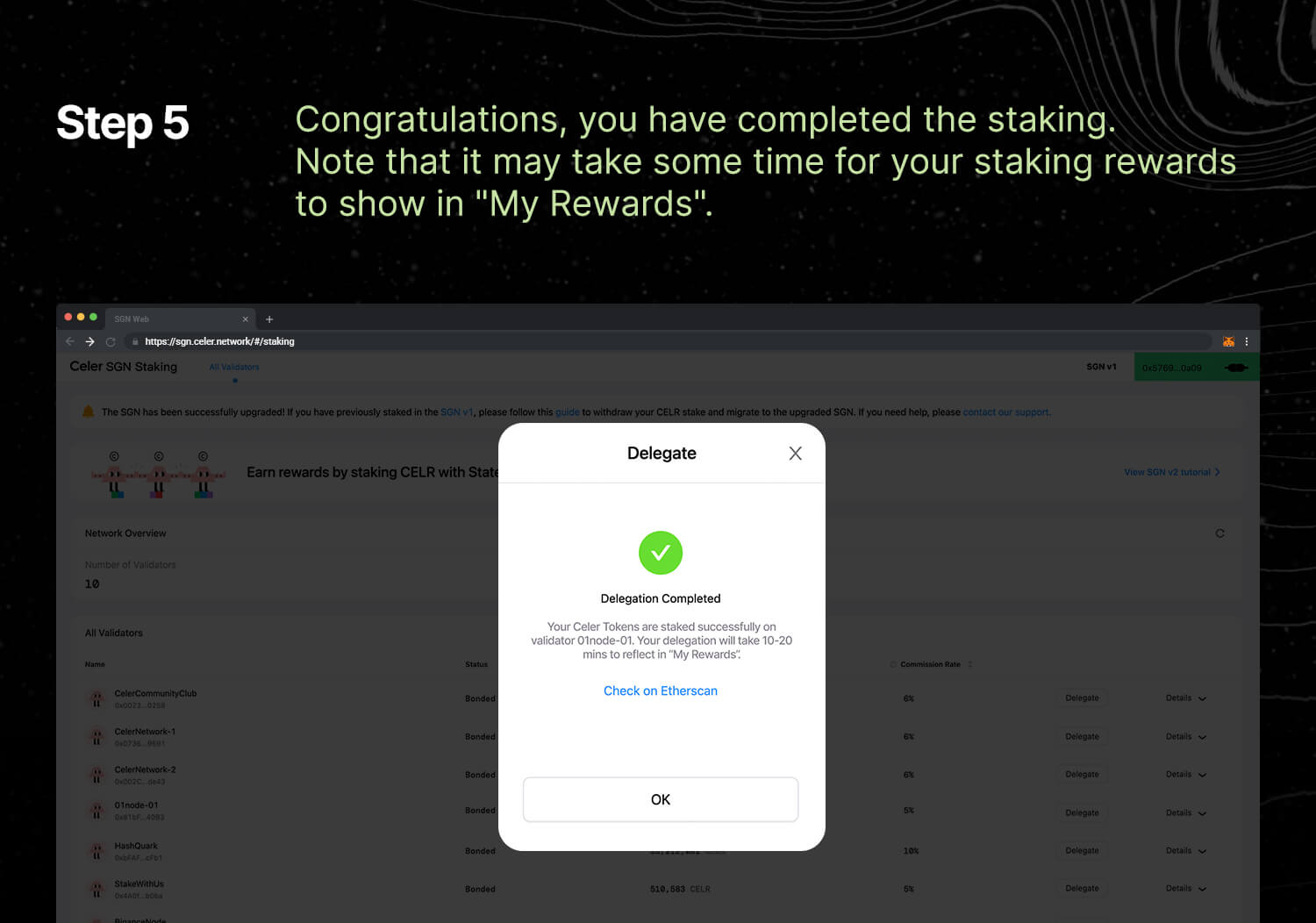 About 01node
01node is a high quality staking and validation service. We have the expertise and time tested infrastructure as a highly secure and reliable node. Our track record shows this reliability, We prioritize great focus on security and we ensure the best practices for every service we offer. We aim to provide the best performance and reliability through our physical infrastructure collocated in tier-3 datacenters.
Our existing validator nodes have secured value on several POS networks since their inception such as Terra, Iris, Solana, Cosmos, Near, E-money, IOV, Solana, Skale, Secret Network, Oasis and others who will soon launch like Celestia or Nomic chain, and Near Protocol. Collectively, we currently secure $540M in user-staked assets.