With the exploding demand for off-chain data, we're excited to announce that 01node has joined the Chainlink ecosystem as a reviewed node operator. Our Chainlink node is now live on mainnet supporting Chainlink's Price Reference Data feeds, and we look forward to continually expanding to support the data needs of the quickly accelerating smart contract ecosystem.
01Node: Experienced Data Validators and System Engineers
As a current validator on many major PoS networks, 01node has the expertise and time tested infrastructure to be a highly secure and reliable node operator on the Chainlink Network. Our existing validator nodes have secured value on several POS networks since their inception such as Cosmos, Iris, Terra, Kava, E-money, IOV, Solana, Secret Network, and others who will soon launch like Polkadot, Certik chain, and Near Protocol. Collectively, we currently secure nearly $5M in user-staked assets.
Before becoming deeply involved with blockchain infrastructure, we provided security services for over 10 years. We were responsible for maintaining the infrastructure for several mission critical institutions in Romania, including several top hospitals.This experience in both POS Nodes and traditional backend systems combined with our unique physical hardware systems, gives us the ability to provide data that is highly available, accurate, and independent of other network services. Running our own stand-alone hardware infrastructure in tier-3 datacenters with only minimal cloud dependencies means we can provide data that does not share the same dependencies as other node operators, which serves to further increase the decentralized security of the Chainlink network.
Chainlink: A Natural Fit for 01Node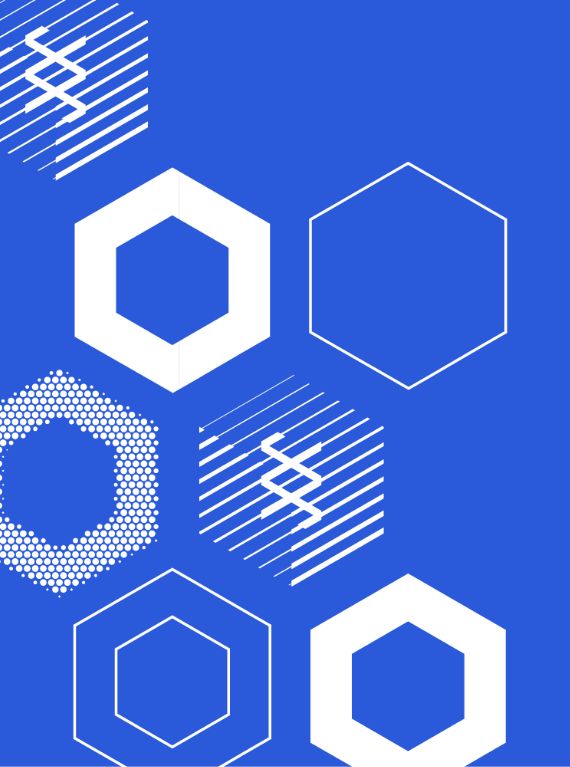 Chainlink is a decentralized oracle network, which serves as a secure middleware that allows smart contracts to communicate with the real world and systems outside the blockchain. Thus, it allows the smart contract to retrieve external data, validate it, and use it to trigger smart contracts. Conversely, it allows smart contracts to send outputs to external systems like sending a payment message to traditional payment systems.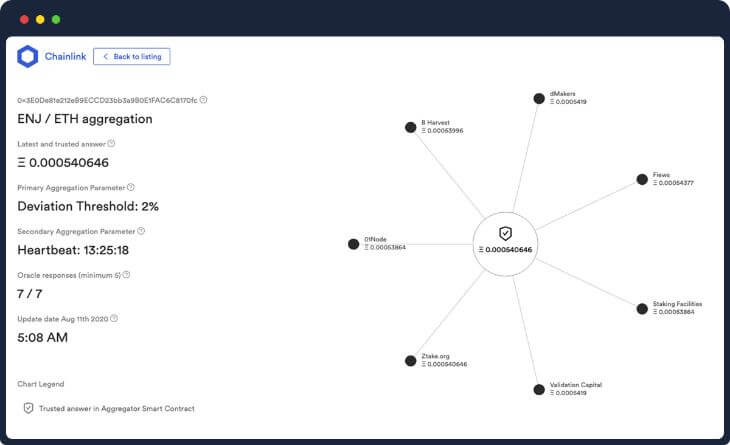 (An example of one of Chainlink's Price Reference Data feeds for the ENJ/ETH price, which 01Node is already contributing to.)
We're excited to be able to contribute to Chainlink's Price Reference Data, as well as participate in the expansion of Chainlink onto many other blockchains (including many we already run nodes for), as well in new data types like Chainlink VRF. We foresee Chainlink being a core piece of infrastructure in Web3 and look forward to meeting the demands of the ecosystem.
About Chainlink
If you want to run a Chainlink Node or get connected to existing nodes, visit the developer documentation or join the technical discussion on Discord.
Chainlink is an open source blockchain abstraction layer for building and running decentralized oracle networks that give your smart contract access to secure and reliable data inputs and outputs. It provides oracles to leading DeFi applications like Synthetix, Aave, and Kyber Network; numerous blockchains such as Ethereum, Polkadot, and Tezos; as well as large enterprises including Google, Oracle, and SWIFT.
Website | Twitter I Reddit | YouTube | Telegram | Events | GitHub | Price Feeds | DeFi
About 01Node
We aim to provide the best performance and reliability through our physical infrastructure collocated in tier-3 datacenters. Our track record shows this reliability, and the great focus we have on security and best practices for every service we offer.
Before we became involved in the vibrant blockchain ecosystem, we were IT security services professionals for over 10 years. During this time we were responsible for maintaining the infrastructure for several hospitals and other institutions here in Romania where we are based. We've taken this experience offering critical security and up-time and brought it wholeheartedly into 01Node.