We are excited to share the news that our Ethereum staking pool, supported by SSV through their DVT technology, has successfully transitioned to mainnet following a period of testing and development. Before we delve into the details of how you can join our staking pool, let's rewind a bit and explore the journey of our progress.
Unveiling Our Staking Pool Journey: Progress and Participation
From project inception, our team has been committed to building a secure, efficient, and user-friendly ETH staking platform. With meticulous planning and execution in each phase, we've progressed through deploying our Minimum Viable Product (MVP) on the Testnet, continuous refinements, thorough security audits, and the successful conclusion of two testnet phases.
Phase 1: Deployment of MVP to SSV Testnet [Private testnet]
In our inaugural Testnet phase, we strategically enlisted a handpicked cohort of proficient node operators—[Chainlayer, P2P, Everstake, Cryptomanufaktur, Forbole]—to rigorously assess our Minimum Viable Product (MVP). This collaborative initiative was designed to accrue valuable insights, enabling us to fine-tune the staking pool's functionalities and evaluate its performance in authentic scenarios. The feedback and observations provided by these esteemed operators played a pivotal role in pinpointing areas for enhancement, refining user experiences, and fortifying the robustness of our infrastructure.
Phase 2: Completion of Audits
Our team conscientiously enlisted the services of [Auditing Firm – Blaize Security] to perform comprehensive security audits on the staking pool. The audit report, accessible here, reflects an impressive score of 9.7 out of 10. Any identified vulnerabilities have been promptly rectified, ensuring a resilient and secure platform for our users.
Phase 3: Completion of Testnet 2 [Open testnet]
The successful culmination of Testnet 2 marked a pivotal milestone in our journey to establish a resilient and user-friendly staking pool. Progressing from a closed test environment to an open testnet, we extended an invitation to a broader community of users, developers, and stakeholders, encouraging them to explore and engage with our platform. This phase was characterized by heightened participation, diverse testing scenarios, and invaluable user interactions. The feedback and data collected from this open testnet have been crucial in validating the scalability, performance, and usability of the staking pool in a more diverse and dynamic setting. Insights gathered during this phase have significantly contributed to further refinements, ensuring a user-centric and technically sound platform poised for the upcoming Mainnet launch.
Phase 4: Mainnet Launch
During this stage, the staking pool mainnet goes live, facilitating both deposits and withdrawals. Additionally, we have plans to incorporate the following features in response to user needs in the future. While these features are not part of the initial product launch, they are envisaged for subsequent phases:
Auto Compounding
Establishment of a liquid staking pool
MEV compatibility
Mobile App
As the product evolves, we aim to conduct more user surveys and research to develop features that enhance user experience, providing a more seamless and aesthetically pleasing platform.
How do you participate in the staking pool
To participate in the staking pool, ensure you possess tokens in one of the following wallets: WalletConnect, MetaMask, Coinbase wallet, Rainbow. Follow these steps to stake your tokens:
Step 1: Visit https://staking.01node.com
Step 2: Connect your wallet to the pool.
Step 3: Enter the desired stake amount and click submit.
Step 4: Congratulations! You have successfully staked your tokens.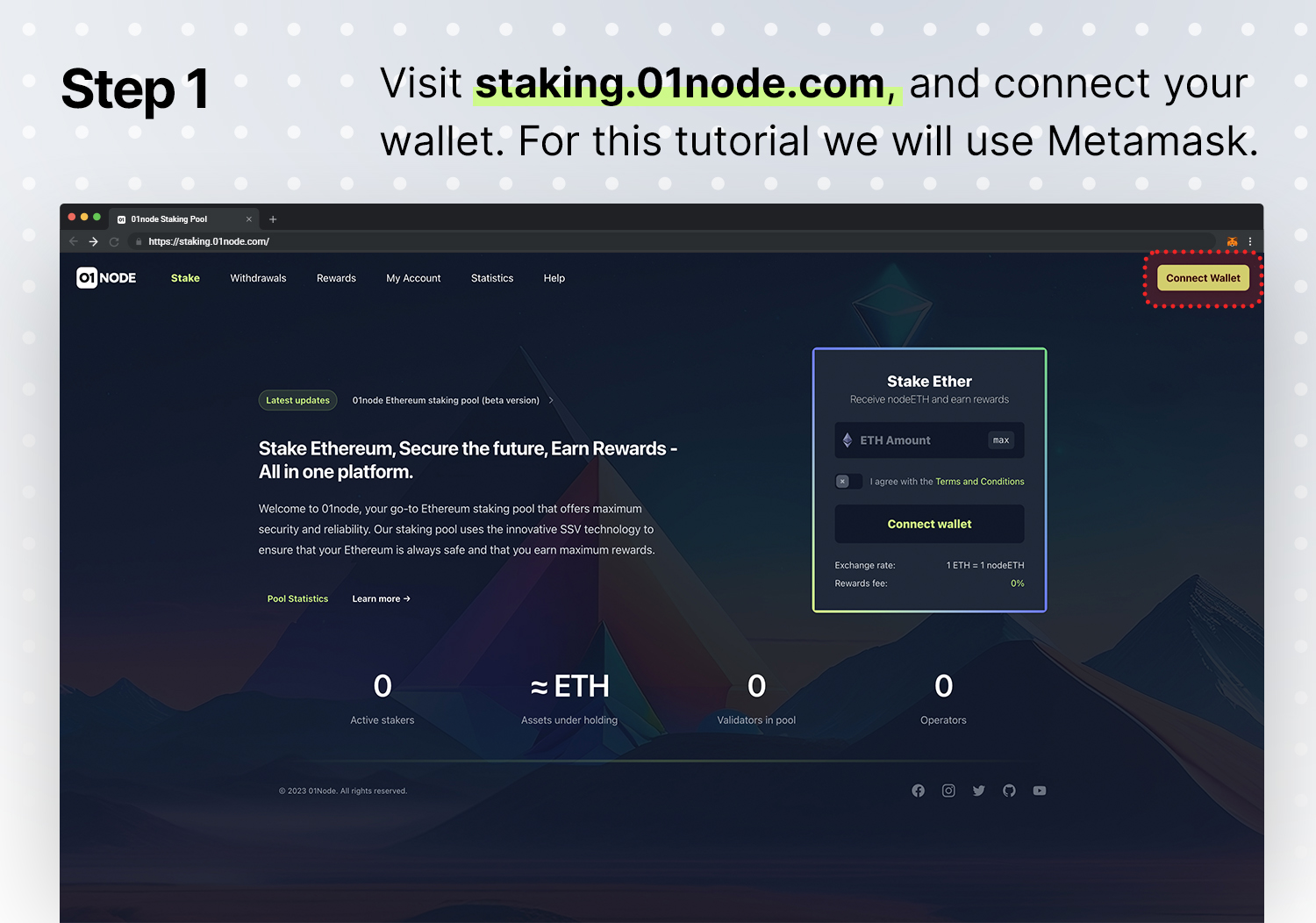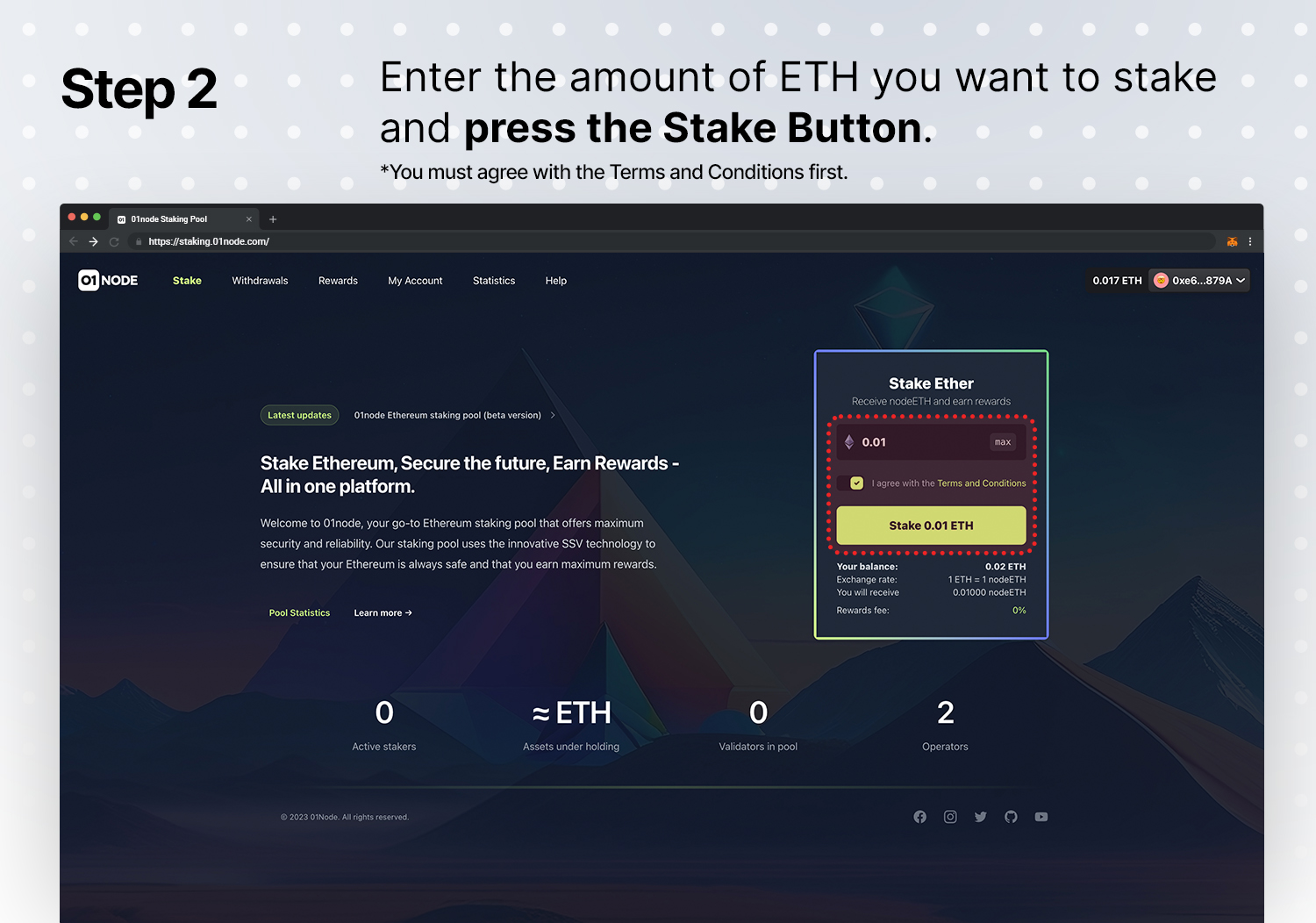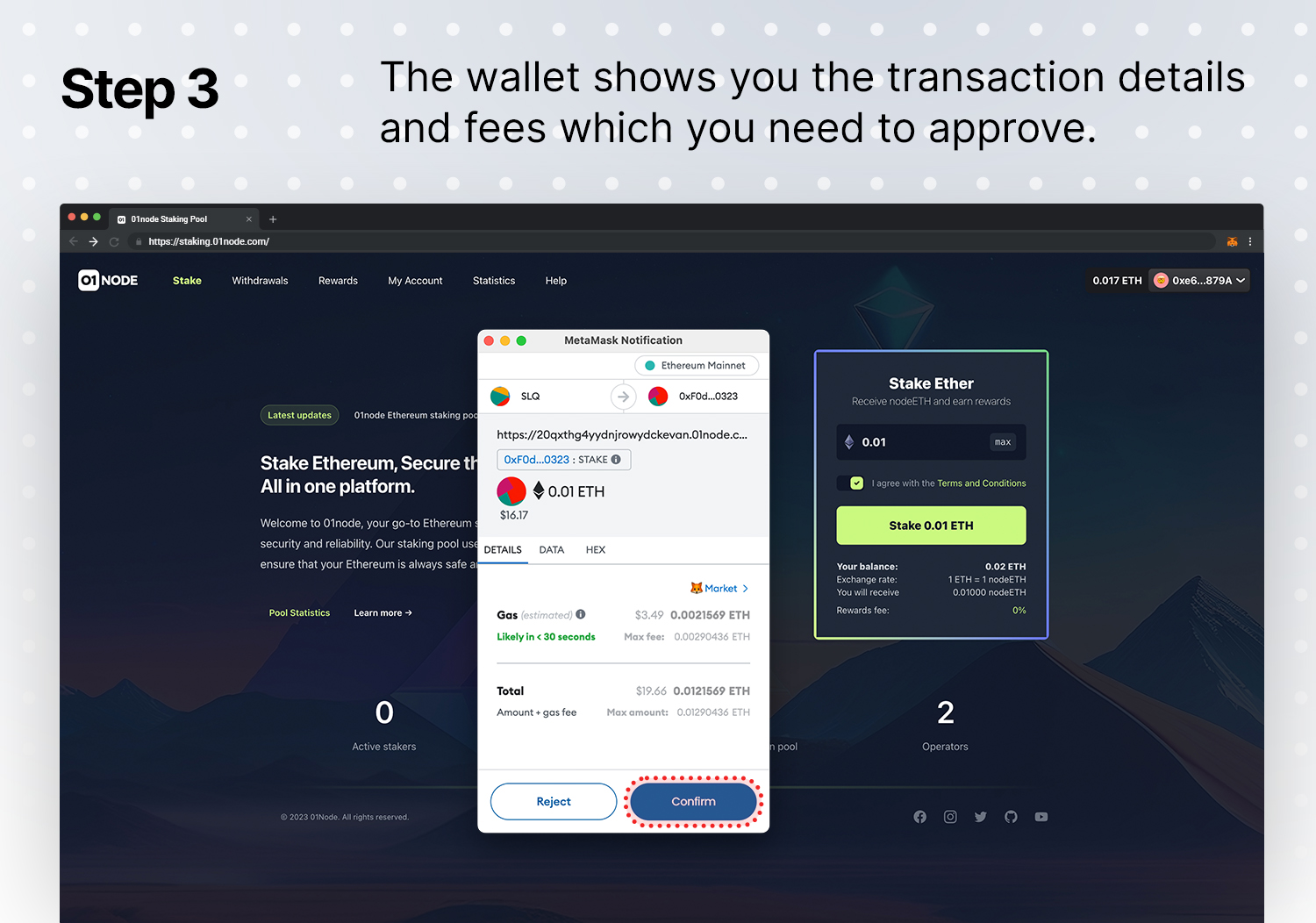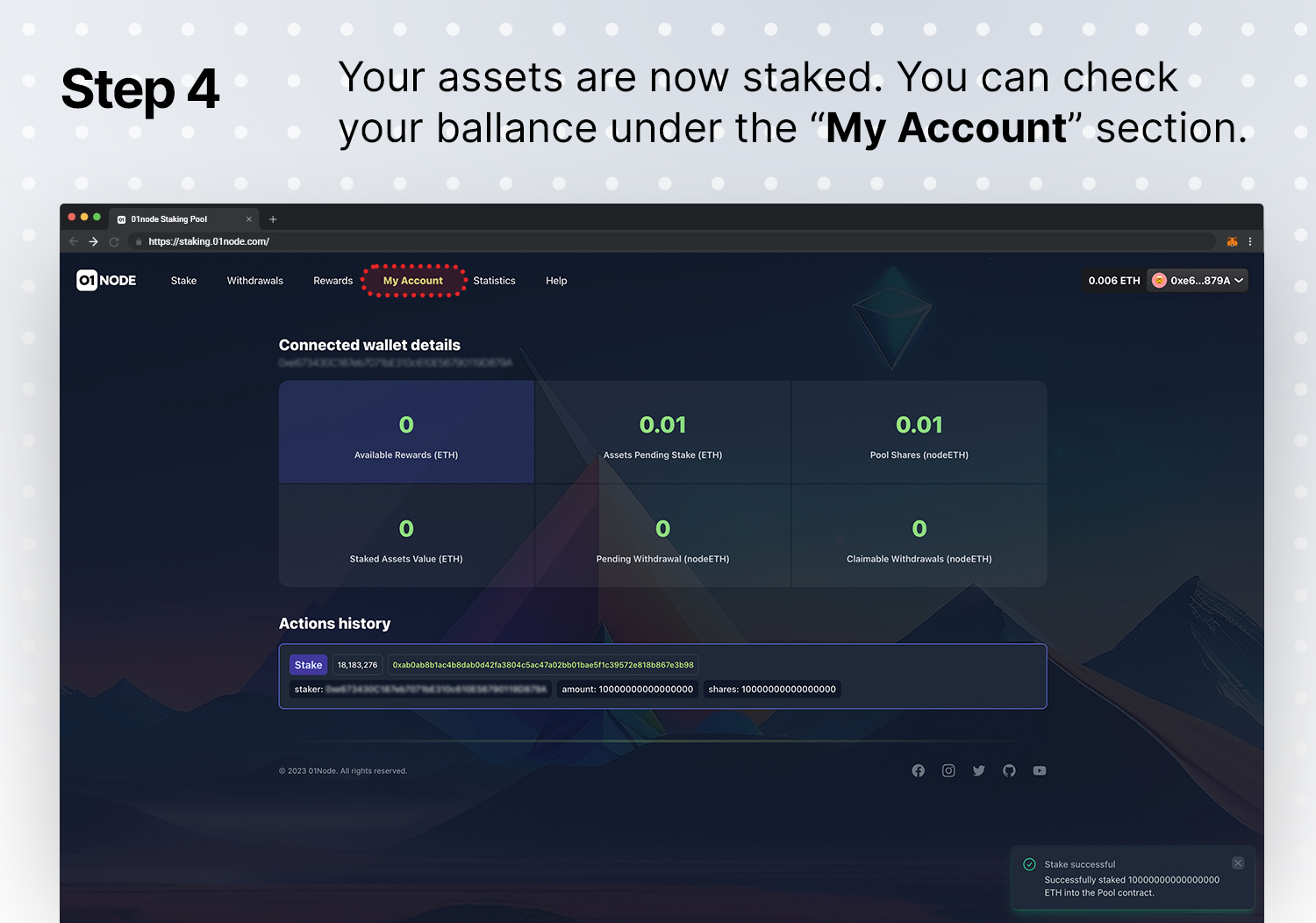 Key Features of our staking pool
Key features of our staking pool, highlighting how it stands out from the rest.
Based of DVT technology: Our Ethereum staking pool, built using the revolutionary DVT technology, revolutionizes the staking landscape by providing enhanced security, increased efficiency, fair rewards distribution, and community governance. With DVT, we are committed to providing a secure, efficient, and transparent staking experience for all participants.
Wallet Compatibility: Our staking pool is built to be compatible with a wide range of wallets, ensuring a seamless and hassle-free staking experience. Whether you prefer popular wallets like MetaMask, Rainbow, or Wallet Connect, based on Distrubuted Validator Technology by SSV, decentralized, noncustodial.
Easy-to-Use Dashboard: We understand the importance of simplicity and user-friendliness when it comes to staking. Our staking pool features an intuitive and easy-to-use dashboard that streamlines the staking process
24/7 Support: Staking is a long-term commitment, and we are dedicated to providing exceptional support throughout your staking journey. Our platform offers round-the-clock support to address any queries, concerns, or technical issues you may encounter.
Why Choose Our Staking Pool?
What sets our staking pool apart from the rest is a combination of security, low fees, high rewards, and active community involvement. Our commitment to transparency and security ensures that your investments are in safe hands, while our competitive rewards structure maximizes your earning potential.
ETH Staking site: https://staking.01node.com
Low Fees: We believe in transparency, and our fees are among the lowest in the market, with 0% fee on rewards fee. This ensures that you keep more of your staking rewards.
Reliability: With zero slashing events on over 35+ networks we validate, with 99.9% uptime, our staking pool has consistently generated rewards for our users.
Non custodial: This is a non-custodial solution, meaning you retain complete control over your ETH, and they remain in your wallet while you stake.
Security Measures: We take security seriously. Our staking pool was audited by top cybersecurity firm by Blaize audit with a score of 9.7 out of 10. Full report : LINK
Proven Team: Our team brings over 25+ years of combined experience in blockchain and staking. You can trust that your assets are in the hands of experts.
User-Friendly: Staking ETH on takes just one click.