Hey 01noders,
Are you ready to take your Ethereum staking experience to the next level?
We are thrilled to announce the launch of our highly anticipated beta phase for an Ethereum staking pool powered by Decentralized Validation Technology (DVT). This groundbreaking technology, is backed by the esteemed SSV.Network, aims to revolutionize the staking landscape, offering a trustless, permissionless, and secure environment for Ethereum holders.
Join us as we explore the incredible features and advantages of our DVT-powered staking pool and learn how you can be a part of this exciting journey. The beta site will be open to the public, running from https://staking-stg.01node.com/ for a period of few weeks.
Why is this important?
Ethereum staking has gained immense popularity in recent years as it offers a way for individuals to earn passive income by participating in the network's consensus mechanism. Traditionally, Ethereum staking required a substantial investment of 32 ETH, making it inaccessible for many potential participants. However, the introduction of our revolutionary Ethereum staking pool (beta) has eliminated this barrier, allowing individuals to stake any amount EVEN AS LOW AS 0.1 ETH.
As we move towards a more decentralized and accessible future, this staking pool beta serves as a catalyst for driving adoption, enhancing security, and empowering a broader community of Ethereum stakeholders. So, don't miss out on this incredible opportunity to stake any amount and be part of the Ethereum revolution.
Features of our Staking Pool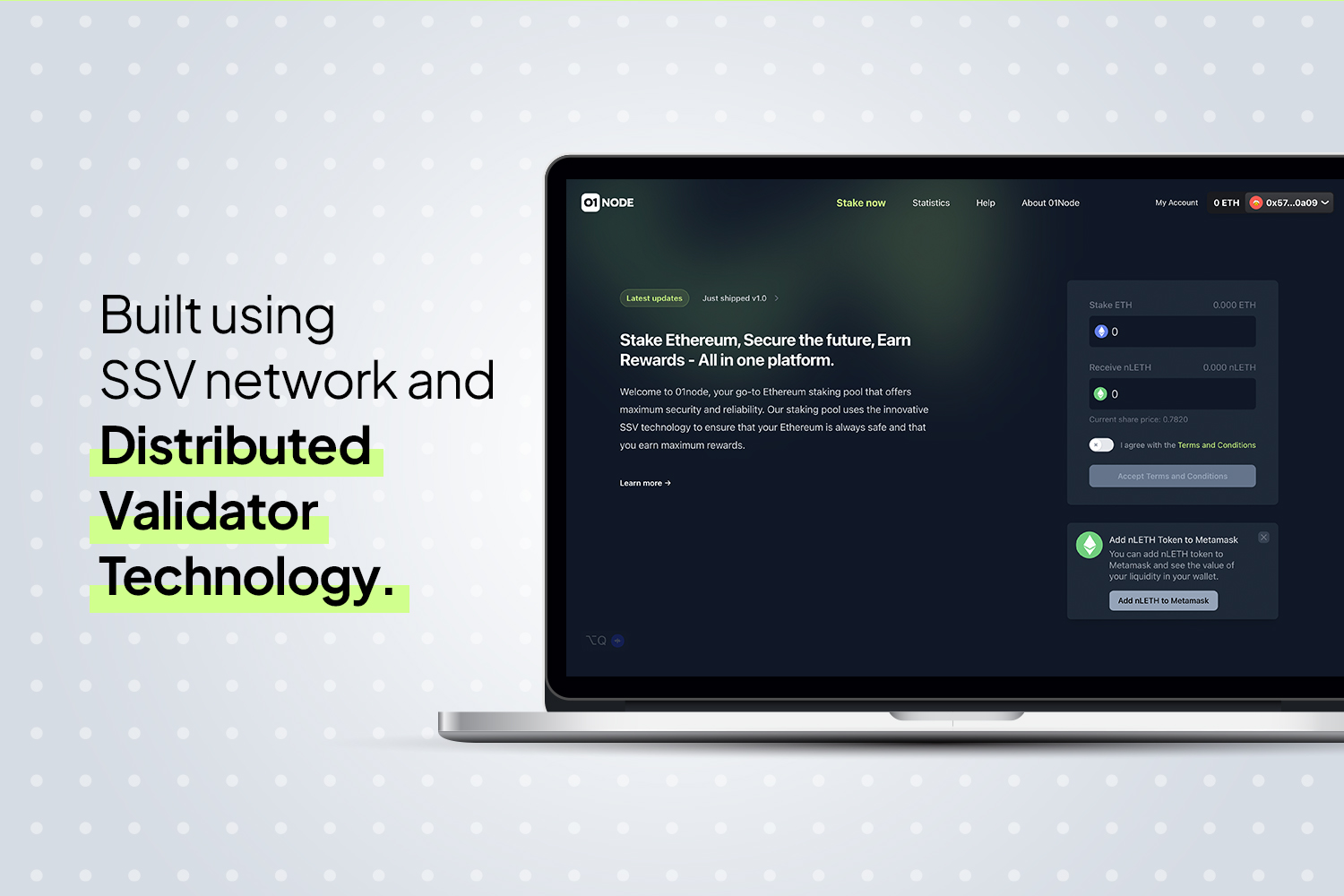 Our Ethereum staking pool is an innovative platform that is built, using SSV network and Distributed Validator Technology to run our validators which aims to make staking accessible, user-friendly, and rewarding for everyone. The UI is simple and intuitive, yet users can do everyting they need to do to manage their stake and also see statistics about pool validators. The pool is managed by automated Oracles that track stacked balances, rewards and validators and through the pool Smart Contract. The pool validators are also automatically managed by the Oracles that track their beacon chain balances and also the execution layer balances.
In this blog post, we will delve into the key features of our staking pool, highlighting how it stands out from the rest.
Based of DVT technology: Our Ethereum staking pool, built using the revolutionary DVT technology, revolutionizes the staking landscape by providing enhanced security, increased efficiency, fair rewards distribution, and community governance. With DVT at the helm, we are committed to providing a secure, efficient, and transparent staking experience for all participants.
Wallet Compatibility: Our staking pool is built to be compatible with a wide range of wallets, ensuring a seamless and hassle-free staking experience. Whether you prefer popular wallets like MetaMask, Rainbow, or Wallet Connect, based on Distrubuted Validator Technology by SSV, decentralized, noncustodial.
Easy-to-Use Dashboard: We understand the importance of simplicity and user-friendliness when it comes to staking. Our staking pool features an intuitive and easy-to-use dashboard that streamlines the staking process
24/7 Support: Staking is a long-term commitment, and we are dedicated to providing exceptional support throughout your staking journey. Our platform offers round-the-clock support to address any queries, concerns, or technical issues you may encounter.
How to participate?
All you'll need to participate is a browser with the latest a version of MetaMask, Rainbow, Coinbase, Wallet Connect or an EVM-compatible wallet and some Goerli ETH to stake. ETH will be freely available from a testnet faucet on the site when the beta begins, but you're more than welcome to bring your own Goerli ETH to use.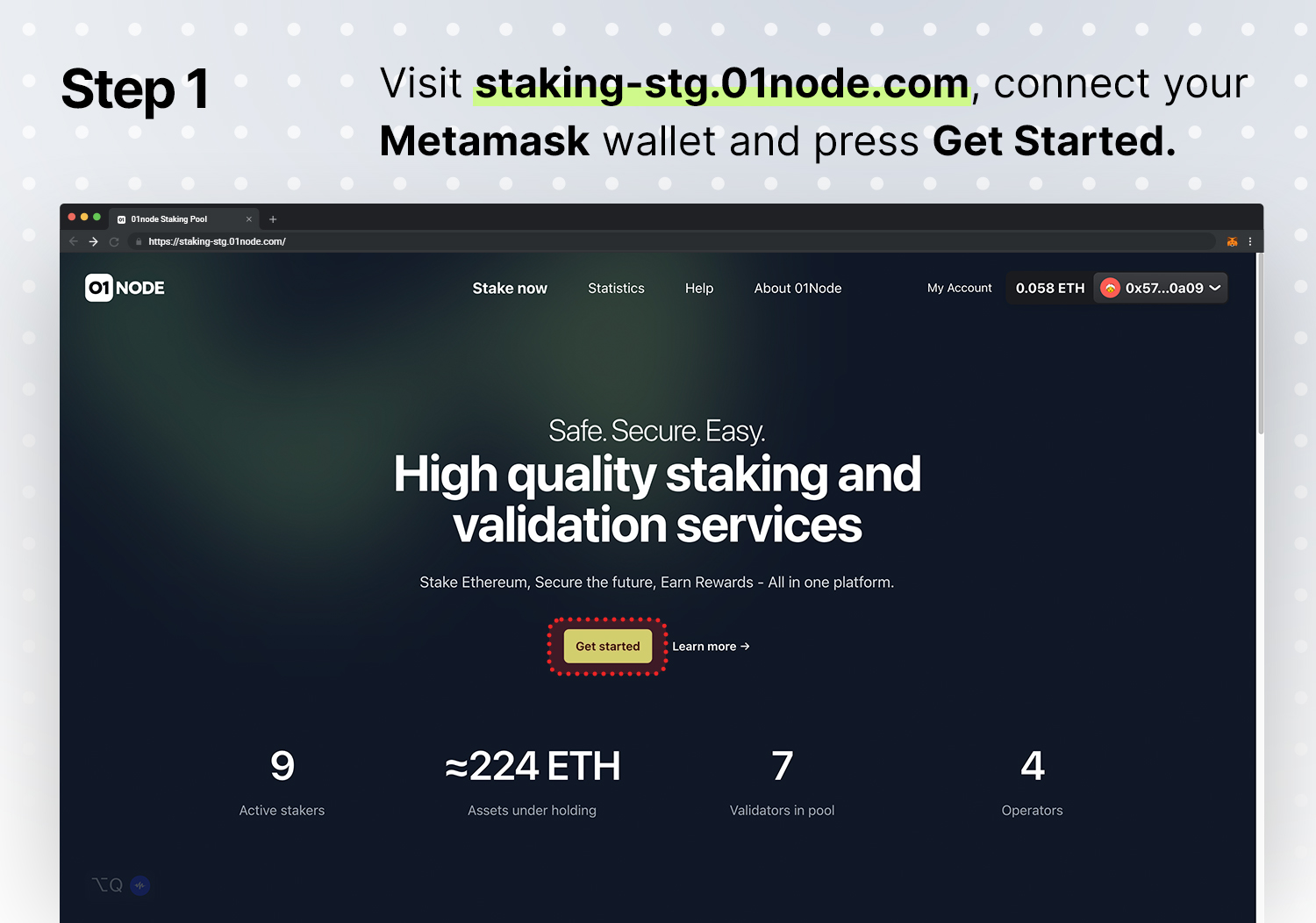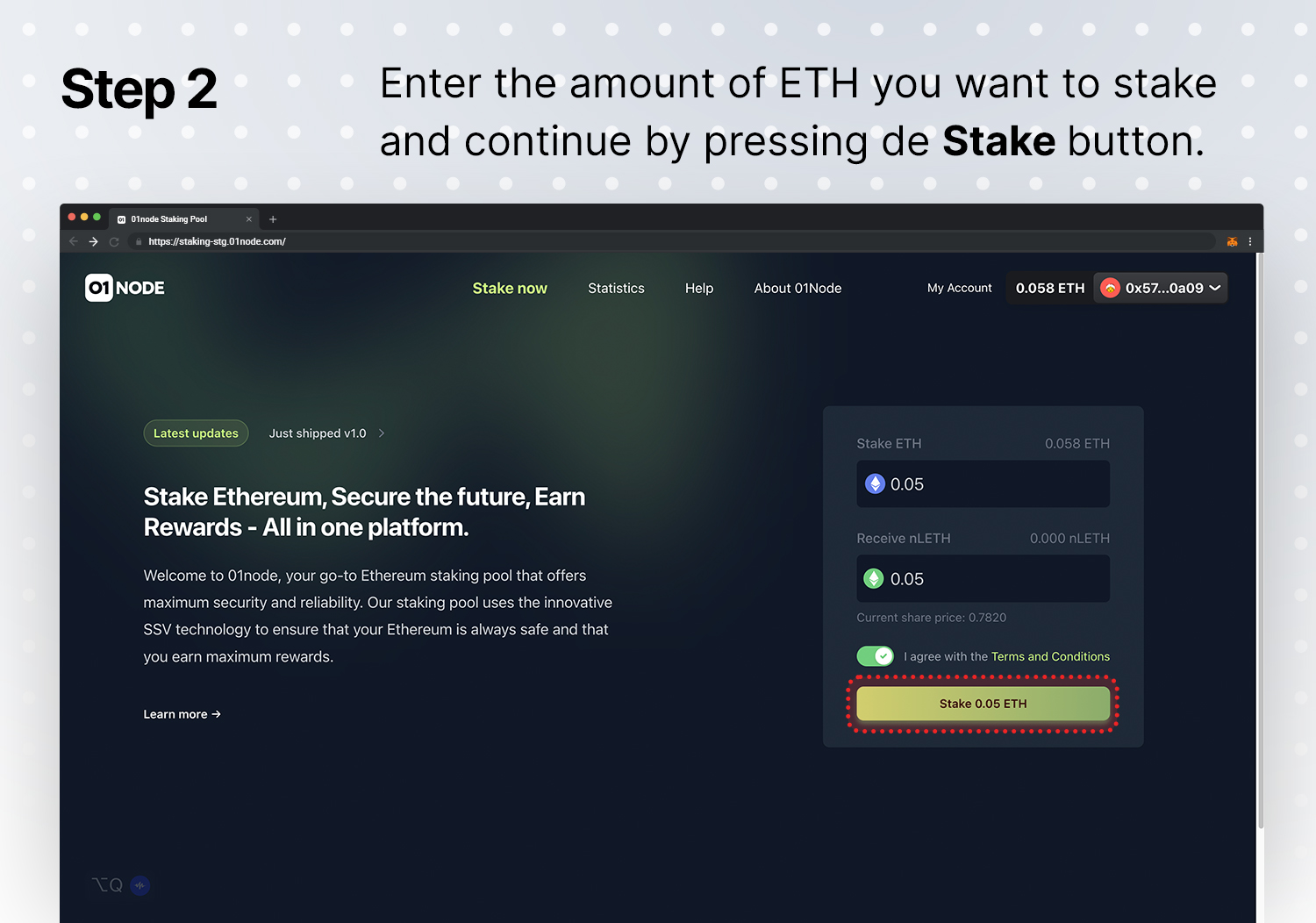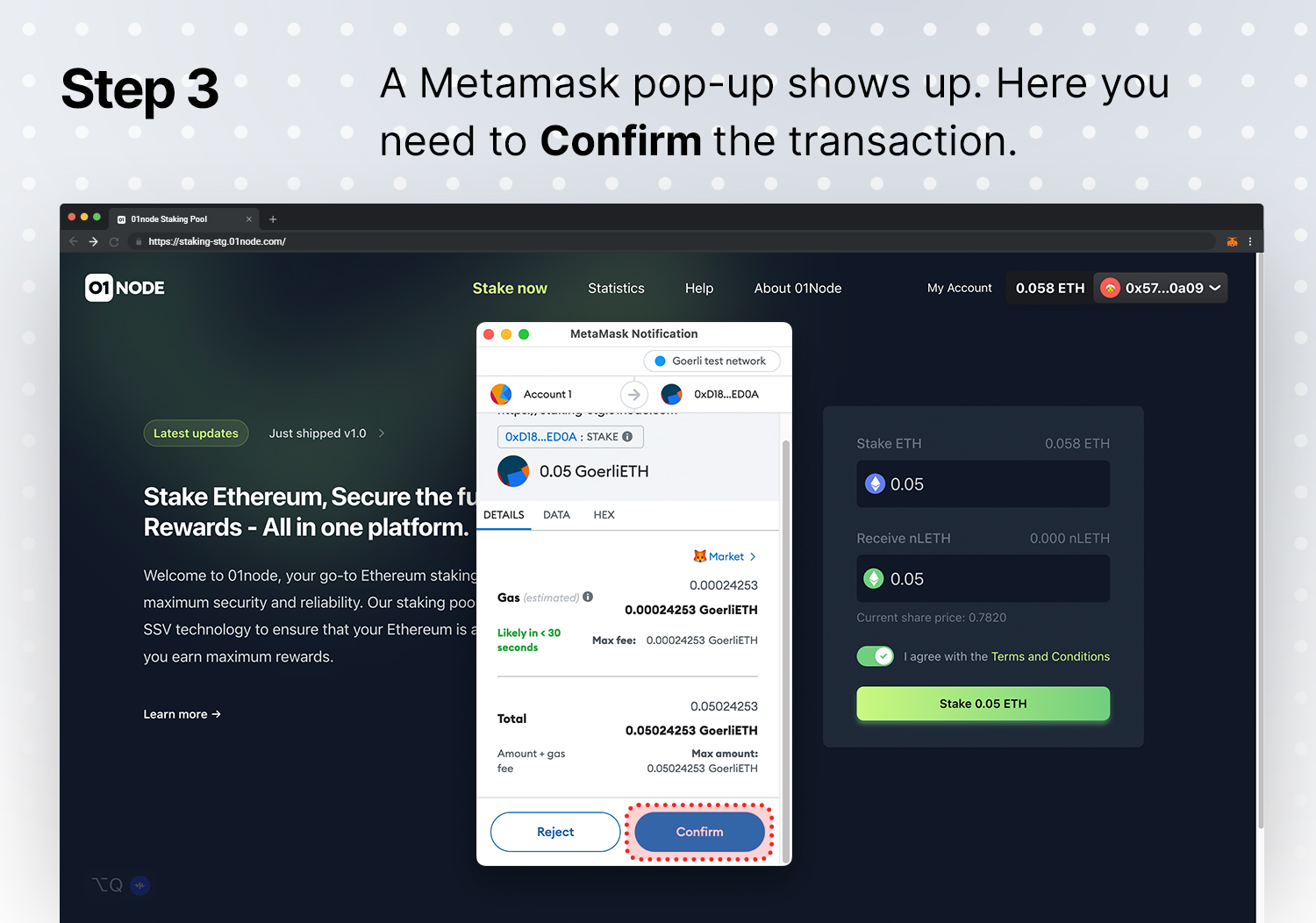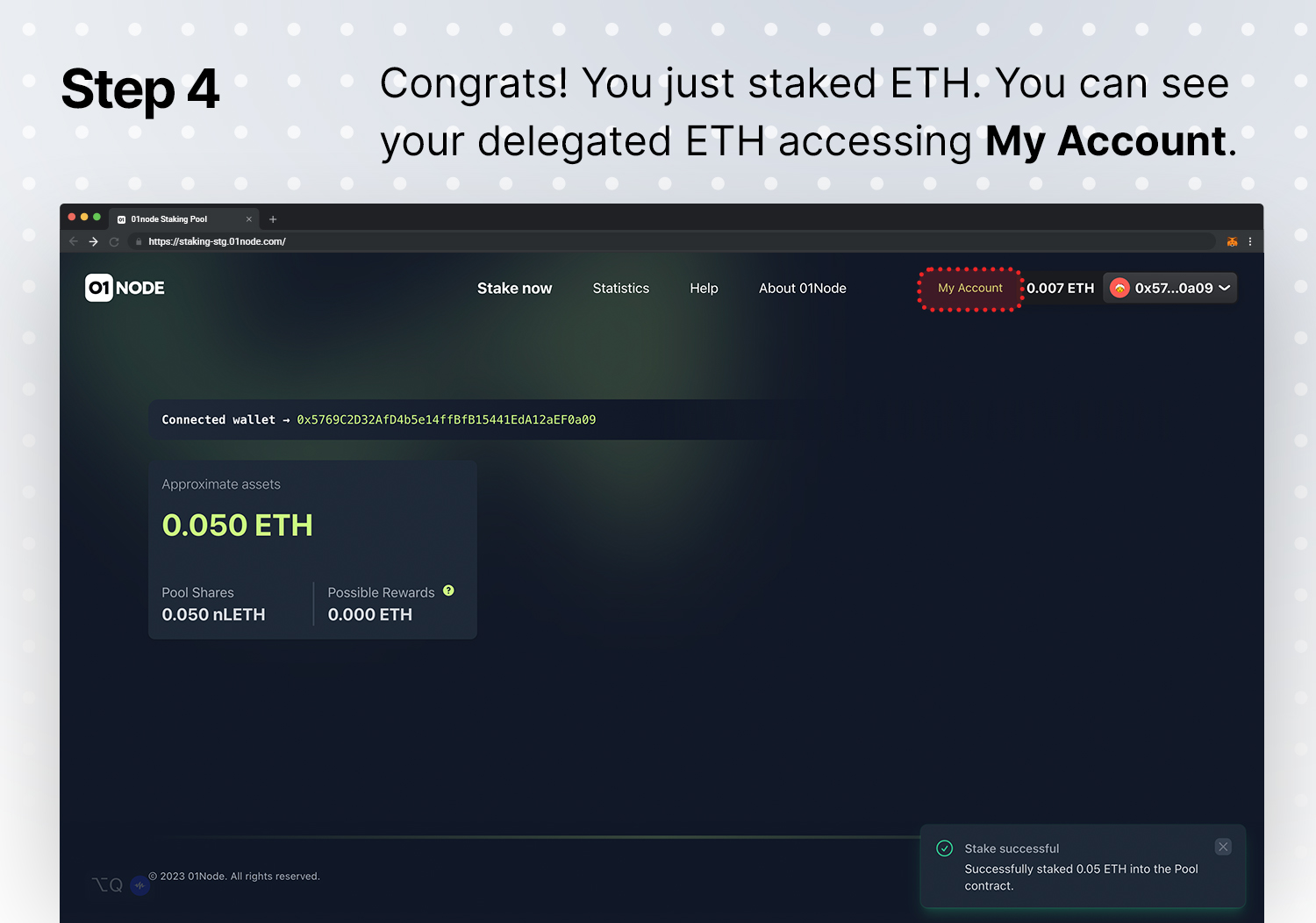 What's in for you?
To make the beta an attractive experience for all community members, all the wallets who interact with our pool during the test period, will have a surprise once it goes live and a very limited edition MVP one for those that go above and beyond in the beta.
Reporting Bugs
The last thing we want in our Mainnet release is a bug! Feel free to submit bug or improvements to [email protected]
Mainnet release plans
For a short period of time, the application will not be available on Mainnet until we're certain that there is no security loophole and the user experience is the best it can be.
Conclusion
Our Ethereum staking pool combines cutting-edge features, DVT technology and user-centric design to provide a seamless and rewarding staking experience. With wallet compatibility, a comprehensive statistics section, an easy-to-use dashboard, and 24/7 support, we aim to empower you to participate in staking with confidence and convenience. Join our staking pool today and unlock the potential to earn passive income while actively contributing to the growth and security of the Ethereum network. Experience the future of staking with our feature-rich platform. Lets ride together!